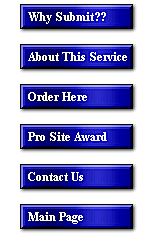 Why Submit Your Site
to over 600 Search
Engines, Link Pages
and Directories ??
We all know that it's not enough to simply put up a web page. You also have to Promote it if you want anyone to come see it! Submiting Your Site to Search Engines is one of the most excellent ways to get the word out for your Web Site.
We submit your site to EVERY Search Engine you can think of. We cover all the major Engines such as Yahoo, Lycos, Excite, Infoseek, Web Crawler, Starting Point, Apollo, and any others you can think of (between 200-300 total)
And we don't stop there! After submiting your page to all the Engines we move onto Link Pages and Web Site Directories! Link pages and directories are almost as good for promoting your site as Search Engines. The only problem is that most people simply don't have the time to submit their own pages to 300 Link sites and Directories. We take care of that for you! You get the power of having your site listed on all those link and directory sites WITHOUT spending the long hours submiting to them!
And we don't stop there either! After Submiting your site to all the places mentioned above, we go BACK to the Search Engines and Resubmit your site AGAIN using our Professional Search Engine Placement Techniques. These are the secrets we, and other major companies in this industry, use for our regular clients when promoting their sites. This basically means that your web site will be guaranteed higher placement then if you would submit them yourself.
Did someone say FREE GIFT?? Yes we did!! We have published a manual on Web Site Promotion. This guide teaches you EVERYTHING you need to know about promoting your web site. It takes you step by step through the process of web promotion and also touches on Internet Marketing. There are tips for starting your internet business, how to accept credit cards on your site, how to market your web product in addition to the excellent web site promotion information. This guide sells for around $30.00 but we will give you a text only version absolutely free, just for ordering. Text only means that you don't get an actual "copy" of the book, but we will give you a web address where you can go and read through the book on the internet. You still get all the great information that you absolutely must have, and its absolutely free!
You get all this for only $21.95 You simply will not find a better deal anywhere on the Internet. Make your web site a success, order now!!

Copyright © 1997, 98 Submission Pro! TM